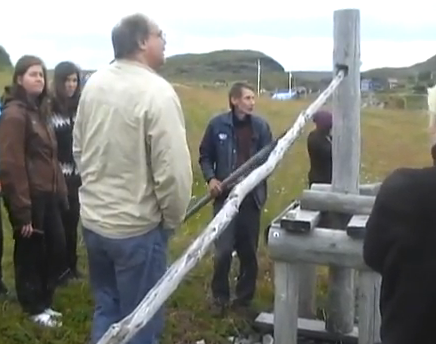 The activities at Sjøsamisk Tun have been of different content and character and have mainly been directed towards the local population. Only recently have we tried to build up activities for other groups as well such as schools, business partners, organisations and businesses in general. 
Our intention is to be able to create custom-made packages of events adapted to the needs and wishes of individual groups, which can be combined with what Sjøsamisk Tun has to offer or can be a part of. 
In the following we will present some of the activities which have been arranged by Sjøsamisk Tun in co-operation with local forces and interests. A great deal of the events have had a local colour and we have also attempted to create content based on local traditions as well as history.

Local social gatherings
One of the annual events has been a gathering around local food traditions and the so-called verdde-tradtion which is the name of the co-operation between the local population and the Sami who live by reindeer husbandry. Food based on coastal Sami traditions has been served along with dishes based on reindeer meat. These events take place annually during the summer and autumn.  
Offers to organisations
We have had a close co-operation with local organisations and the area has been placed at the disposal for these and we have worked together in order to create events. 
Fleamarket
One of the offers we have is the sale of used items in our flea market which has its own shop on the area.  ("Loppemarked" in Norwegian)
Guiding

In addition to being an offer for tourists, we have also directed our guiding services to schools and other interested groups by appointment. Those who have wanted to be guided on the premises, have received increased insight and knowledge about the culture and traditional way of living of the coastal Sami inhabiting the area, as they have been guided around on the open-air museum . Unfortunately, we can only offer guiding in Norwegian at present, but are willing to answer questions in English as far as our knowledge in said language permits us.
Private arrangements
In the late summer of 2009 we arranged a grand birthday party for invited guests. The party was centered around the recently expanded Barbecue House but other facilities were in use as well, in order to serve the guests, like our kiosk and also the little community centre of Smørfjord nearby. 
We are able and willing to customise such events for interested groups, be it birthdays, wedding parties, baptism and class reunions to name a few - or just any interested group of people.
Hikes in the nature  
There is a marked path starting from Sjøsamisk Tun following the shoreline for a while before it takes off into the area behind the village. The path is well marked and gives an excellent opportunity to explore a cross section of the arctic nature. It doesn't take long and it is safe to follow as it doesn't take you far from the village itself. Thus it is suitable for a family who wants to have a different experience from the road. We also intend to use this path in combination with what else we have to offer, in order to create packages where guests can either be accommodated on the premises or have arranged other accommodation by themselves. Such experiences can be made to last from a few hours to a few days. This will give a rich opportunity to get to know the local area, its traditions, culture and history combined with an experience of the nature itself.
Watch a video of the marked path

Serving of food and beverages
At present it is possible to buy coffee, waffles and ice cream from the kiosk. By special appointment we can serve open sandwishes, pastries, cakes etc. or groups may bring their own food for eventual events. In the future we hope to be able to serve warm meals to tourists as well as to guests at special events. 
Earlier events

Here we present some of the events we have carried through during the last year or so. Through photos and linked videos you may get an impression of the events and what Sjøsamisk Tun can offer. When we have been finishing the expansion of the Barbecue House during the spring/summer of 2010, we will be able to give our visitors a far better offer than what has been possible up to today. 
The Day of the Coastal Sami  is one of the events which has become an annual tradition at Sjøsamisk Tun. It is arranged in co-operation with the Local Association of Smørfjord and traditional sea food from the area is being served to a pleasant gathering in our Barbecue House.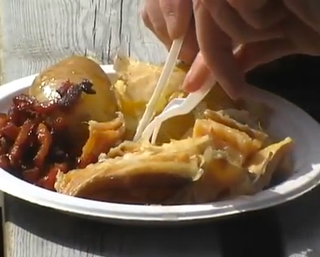 A dish of "boknafisk".
Video from The Day of the Coastal Sami i n2009

The Day of the Reindeer herding Sami is a day where the Sami who live by reindeer husbandry are inviting to a feast with traditional food based on riendeer meat.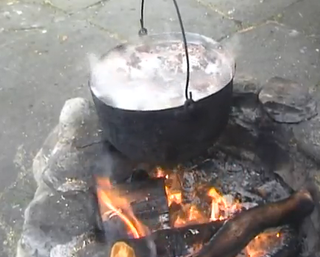 Reindeer meat is being boild over open fire.

Video from the Day of the Reindeer herding Sami in 2009

Fairs have been arranged at Sjøsamisk Tun in June, where local people may come to sell their products, for an example Sami handicraft (duodji) and other kind of handicraft as well, products made of local berries, flowers and lots of other things and items. Such fairs will be arranged several times during the summer. 
If you happen to come by during one of these events, don't hesitate to join us! Guests are always welcome!